Venue
How to get to there
Address:
Těnovice 55
Spálené Poříčí
335 61
Czech Republic
GPS: 49.632222, 13.633333
If you intend to travel through Prague and wish to stay overnight at the Prague DWB center, please, let us know in advance at [email protected]!
But from July 1st is Prague DWB center closed!
By public transport
Please note that we do not organise shuttle service from the airport! However, we will be able to pick you up at the Lipnice train station or from Spálené Poříčí (both near Tenovice).
For travelling in the Czech republic we recommend either IDOS or Pubtran mobile phone applications. They can both combine buses, trams, metro and trains and find the optimal travelling route.
Travelling through Prague
Taxi
For contacts to the official taxi companies see www.taxi-praha.cz
Public transport
From the airport to the main train station: Take the bus 119 to Nádraží Veleslavín, change there to metro line A (direction towards Depo Hostivař), change again at Muzem to metro line C (direction towards Letňany) and in one stop you arrive at Hlavní nádraží (the main train station).
Connection search – IDOS, Pubtran applications or online at www.dpp.cz and www.idos.cz
Tickets – All metro stations and many tram stops have ticket machines, some (but not all!) accept payment cards. At the airport look for the Transport Company (Dopravní podnik) directly in the Arrival Lounge, in the Visitor Centre. Also all trams have machines accepting payment cards installed inside.
From Prague to Lipnice, Nezvěstice or Spálené Poříčí
Search for connections from "Praha hl.n.", "Praha-Smíchov" or from "Praha, Na Knížecí". Expect between one to three changes, depending on the time of your travel.
From Lipnice, Nezvěstice or Spálené Poříčí to Těnovice
If you arrive at one of the following destinations, call our shuttle servis (Ota +420 773 200 108), but please note that shuttles won't be driving during Lama Ole's lectures.
Těnovice Retreat Center
The Těnovice retreat center is a Diamond Way center of the Karma Kagyu lineage of Tibetan Buddhism, founded by Lama Ole Nydahl and under the spiritual guidance of the 17th Karmapa Thaye Dorje. The center consists of the main building with a gompa (meditation hall), surrounding land, and is home to a Stupa of Enlightenment – a model of the enlightened state of Buddha Shakyamuni, reflecting the perfect essence of the mind of all beings.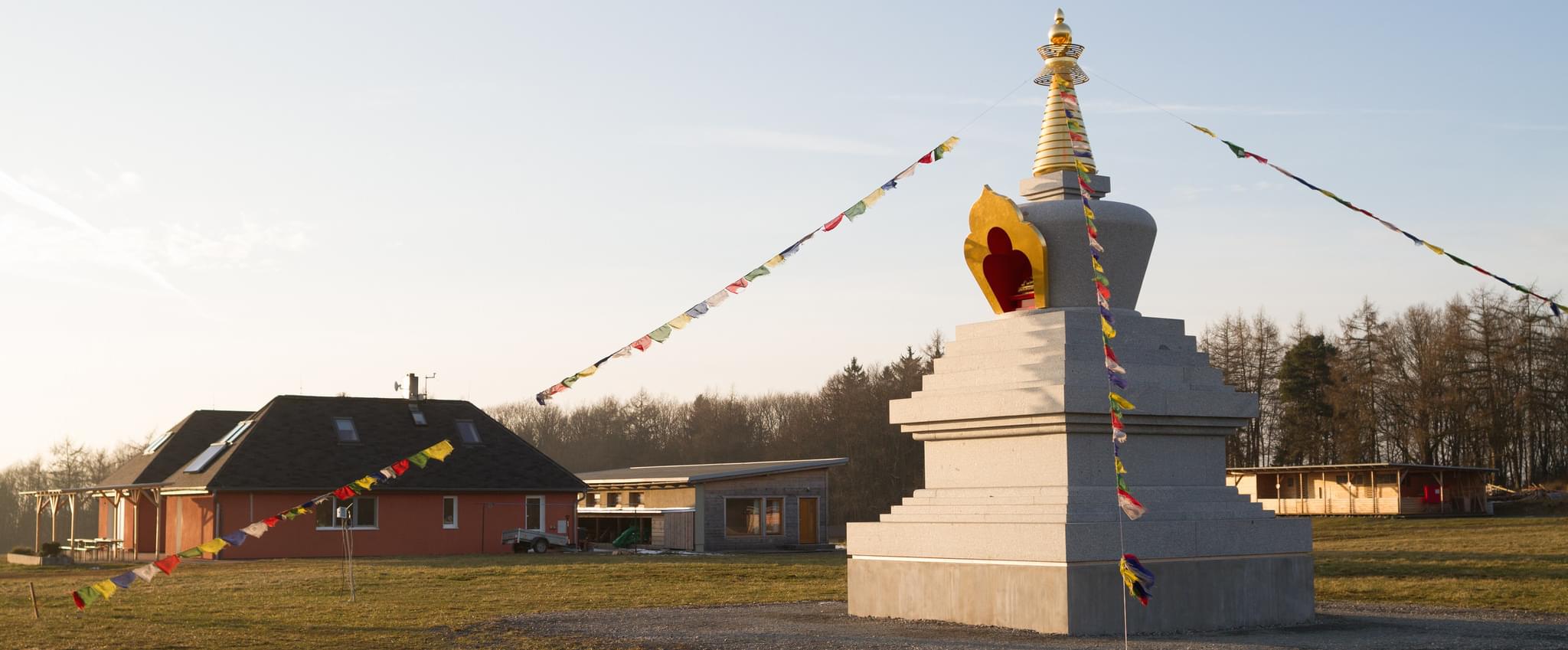 Accommodation
There is lots of space for tents on-site. You can also search online for accommodation in hotels.